October 28, 2007
Appellate court candidate's son files national class action against AT&T, Cingular
Proposed class plaintiffs Marcie Crandall and Dale Fietsam of Belleville, who were former AT&T customers before the companies merged in October 2004, claim they were forced into buying new phones because their old ones were not compatible with Cingular's wireless network under which their post merger plans operated.They claim their phones contained network-specific "locks."

According to the complaint filed Oct. 24 in U.S. District Court for the Southern District of Illinois, the companies entered into locking contracts with cell phone manufacturers before they merged. Locked phone units, the suit claims, only detect the provider's network which paid for the lock.

"The purpose of these 'locking' contracts was to limit the cellular phone's ability to detect a cellular network through the use of the SIM Card," the complaint states.

Crandall, whose AT&T cell phone would not work on the Cingular network after the merger, claims she was told she could pay a $5 analog fee or buy a new cell phone. She claims she expended money to purchase a new phone because she was never informed that her locked phone could be "unlocked" and made compatible with the Cingular network.

"The failure of AT&T and Cingular to inform their consumers that the cellular phones contained 'locks' were material omissions of fact which were designed to induce consumers, including Marcie Crandall, to purchase a new cellular telephone," the complaint states.

The complaint also claims that Crandall was required to agree to a new service contract with Cingular on terms that were less favorable than her prior contract with AT&T Wireless.
October 27, 2007
California State-legislated Safe Routes To School Program
Established in 1999, the State Safe Routes to School (SR2S) program came into effect from the passage and signing of Assembly Bill 1475 (AB 1475). In 2001, Senate Bill 10 (SB 10) was enacted which extended the program for three additional years. In 2004, SB 1087 was enacted to extend the program three more years.

A new bill, AB 57, was introduced in December 2006 to extend the program until January 1, 2013.Six (6) cycles of project solicitation for the State SR2S program have been completed. Click the link below to view the results.

A call for projects for the 7th cycle of this program was announced in August, 2007. The application submittal deadline is Friday, November 16, 2007. This call for projects covers FFY 2006/2007 and FFY 2007/2008. The amounts available for the 2006/2007 and 2007/2008 fiscal years are approximately $26.8 million and $25.5 million, respectively.
October 26, 2007
Children's Cold Remedies Raised Questions for Years
So when Sharfstein became Baltimore's health commissioner, he launched a campaign that led an expert panel of the Food and Drug Administration to conclude last week that the products should not be used in children younger than 6, shocking many parents and setting up a possible clash between the FDA and the pharmaceutical industry, which is vowing to continue selling the products.The case has also raised many questions: How could the products remain on the market for so long without proof they work? Why didn't the FDA act sooner? Why didn't the medical establishment warn parents? Are there other medications in a similar situation?
October 26, 2007
Medical News: Errors by Resident Physicians Often Result of Inadequate Supervision
Medical errors by resident physicians in U.S. hospitals stem from lack of judgment and technical competence but also from inadequate supervision by senior physicians, a study of malpractice claims found.Among 240 claims in which trainees (mainly residents) were judged to have played an important role, errors of judgment was the most frequent contributing factor, found in 72% of cases, Hardeep Singh, M.D., M.P.H., of Baylor College of Medicine here, and colleagues, reported in the Oct. 22 issue of Archives of Internal Medicine.

Breakdowns in teamwork was a close second at 70% and lack of technical competence was found in 58% of cases, the researchers said.

Trainees are inexperienced, often tired, and occasionally unsupervised, and they tend to work at medical centers treating the sickest patients, the researchers noted. Yet there has been limited information about the types and causes of trainees' errors.
October 25, 2007
Homeowner claims: Increase your payouts
It should be clear by now that the prudent course is not to assume that your insurance company will automatically offer you all you're entitled to. Even before the insurance adjuster arrives, contact a few contractors in your area to get estimates of what it will cost to restore your home to its original condition.If the insurer matches those estimates, great. If not, you'll have a better sense of how much more you need to push for. If your carrier won't budge from an offer you feel is too low, invoke the appraisal clause that's part of most homeowner policies.

You and the insurer both hire appraisers, and they try to agree on a binding settlement. If they can't, an umpire selected by the appraisers or a judge will arrive at a figure.

If you feel the adjuster you've been dealing with is stalling or delaying your claim, explain your view of the situation in a letter to the claims manager who oversees the adjuster and request that the manager intercede to expedite the claim.

If that doesn't bring satisfaction, move up to the regional claims manager and, if necessary, the executive in charge of the claims department. And if you have replacement-value coverage and receive only the actual cash-value portion of your claim initially, keep meticulous receipts of what you shell out for materials and labor.

You'll need them to claim the share that was held back once the job is done. Also be aware that many insurers may be willing to advance the full replacement cost up front once you sign a contract with a builder to do repairs – if you ask.

So ask.
October 25, 2007
x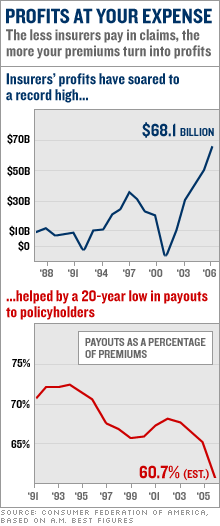 October 25, 2007
Insurance woes loom for wildfire victims
Right now, thousands of dislocated Southern California homeowners are fretting about the fate of their residences, but the biggest headaches could come months after the wildfires ravaging the area are extinguished.Consumer advocates warn that insurance firms could take a hard line with their policyholders in the wake of the wildfire disaster, by skimping on claim payments or going so far as to efuse to write new policies altogether.

"It's possible," said Robert Hunter, the director of insurance for the Consumer Federation of America. "We have to wait and  see what the statistics are."

Estimates about the extent of the damage inflicted by the wildfires to homes, cars and other personal property remain scant.
October 14, 2007
Campbell Voluntarily Recalls Campbell's Chunky Baked Potato With Cheddar and Bacon Bits
Campbell Soup Company is voluntarily recalling a limited quantity of 18.8 ounce cans of "Campbell's Chunky" Baked Potato with Cheddar & Bacon Bits because they may contain pieces of hard plastic that present a choking hazard and may cause injury if swallowed. Three consumers have reported minor injuries in and around the mouth.
No other "Campbell's" soup products are affected by this recall.